Commercial Kitchen Cleaning for Hospitals in St. Louis, MO
Welcome to Grease Bullies Hood Cleaning. We kick germs and bacteria out of commercial kitchens.
Do not risk your patients' health to a preventable fire or other disasters. At Grease Bullies Hood Cleaning, our hood cleaning technicians are properly trained to resolve serious hood grease issues.
Time is precious and must be spent on important things like managing the hospital to provide better services to patients. Let us be the one to ensure your patients, staff, and facility is safe from potential grease hazards.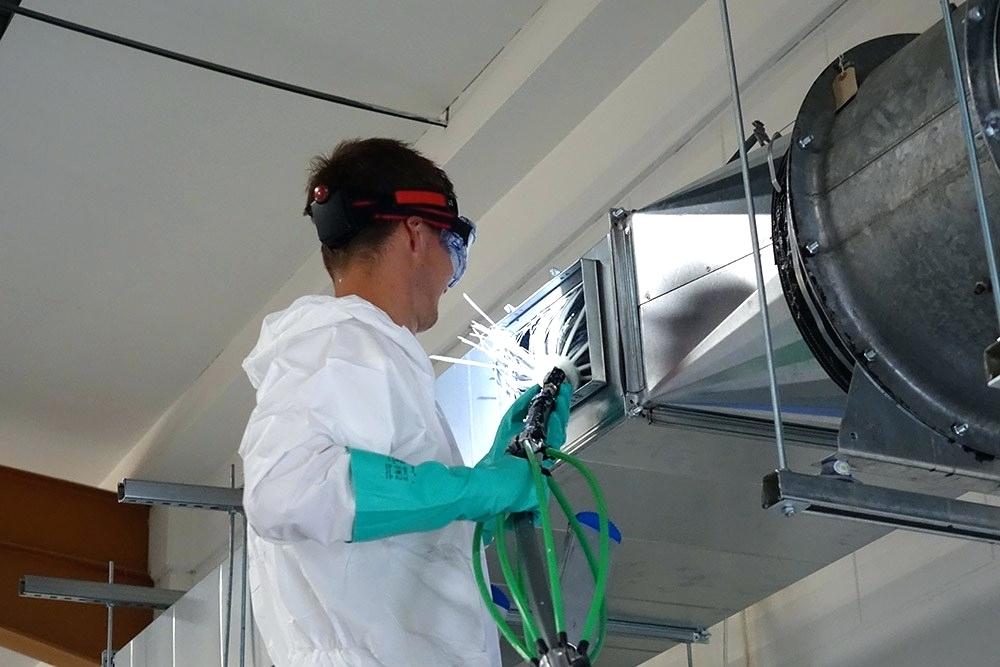 Hospital Kitchen Cleaning Services
Whether your hospital kitchen is found in a messy situation or in total chaos, we have the best kitchen cleaning solutions for you.
Grease removal is a time-consuming task dreaded by many kitchen staff, but with the help of our local hood cleaners and our advanced grease removal technology, Grease Bullies Hood Cleaning makes grease removal easy.
We clean grease from commercial kitchen appliances and equipment like exhaust hood systems, grills, fryers, and hood filters.
Kitchen Appliance Cleaning
It is inevitable that food and drink spill on kitchen appliances. Our local kitchen cleaning company will keep your appliance or equipment clean and provide a professional cleaning service that will remove grease, food stains, odor, grime, mold, and hardened particles.
St. Louis, MO Fryer Cleaning
When you need a professional fryer cleaning in Missouri, you can depend on Grease Bullies Hood Cleaning. We provide deep fryer cleaner services in Missouri and the bordering Illinois areas.
Hood Filter Cleaning
To keep your hospital safe, you need to have your kitchen hood filter cleaned on a regular basis. You can count on Grease Bullies Hood Cleaning to give the best vent hood cleaning that will keep your facility safe.
Cleaning hood filters is important to eliminate fire hazards and to maintain fresh and healthy air. Working with Grease Bullies Hood Cleaning means we will:
Remove the hood filter carefully and soak it with grease-cutting detergent.

Scrub the hood filter to remove residues and grease.

Spray food-safe cleaning solution and clean the hood filter with the proper cleaning supplies.
Grill Cleaning
Grilled veggies and fruits are a great alternative to meat. If your hospital kitchen appliance includes a grill, Grease Bullies Hood Cleaning can help keep it spotless and safe to use.
It is incredibly important for hospitals to prevent cross-contamination. However, with so many things going on in a commercial kitchen, it can be difficult to keep grills and ovens clean. That is a big problem as unmaintained appliances will speed up the spread of diseases.
To ease your burden and remove the risk of contaminants, contact Grease Bullies Hood Cleaning.
Rooftop Grease Containment
All commercial kitchens are required to have a system to collect grease from the kitchen to uphold the NFPA codes. Such systems are essential for keeping the establishment and people safe from possible kitchen hazards such as bacterial and chemical contaminants.
Hiring Grease Bullies Hood Cleaning will ensure your rooftop grease containment is properly maintained. Our technicians will inspect your system and perform the best solution. Most importantly, our focus is to help your business be in compliance with local codes.
Why You Should Choose Grease Bullies Hood Cleaning As Your St. Louis Kitchen Cleaning Company?
Many grease fires start in the kitchen and the lack of maintenance of deep fryers, ovens, and range hoods is often to blame. The result can be a heartbreaking loss of property, investments, and life. Unfortunately, many of the grease fires that happen are preventable by using the right methods for cleaning these appliances.
Grease Hood Bullies is more than a hood cleaning business. What we are offering are solutions to your commercial kitchen problems. If you hire us to clean your hospital's kitchen, our crew will deal with every mess, grease, and food spill. 
We know how busy kitchens can get. A typical hospital cafeteria serves thousands of meals for patients, guests, staff, and doctors, so you need to find quality kitchen equipment cleaning services that can ensure that every meal is safe to consume.
As a St. Louis hood cleaning company, we are well-equipped to handle all kinds of hospital commercial kitchen cleaning needs.
Commercial Kitchen Cleaning Professional in St. Louis, MO
We would love to hear from you to discuss how our St. Louis, MO hood cleaning services can ensure that your hospital commercial kitchen is professionally cleaned.
Grease Bullies Hood Cleaning has your back. Need a free kitchen cleaning estimate for your hospital? Get in touch with us.