Kitchen Hood Cleaning Services in St Charles, MO
Developing a plan for deep cleaning your establishment's kitchen and equipment is not easy. It involves working for hours, using proper cleaning equipment, and creating contingency plans for possible challenges that may arise. That is why local businesses in St. Charles, MO, need the work of an expert hood cleaning technician.
Neglecting grease buildup creates significant risks that may result in legal issues and can also cause businesses to fail safety inspections. With Grease Bullies Hood Cleaning, you can say goodbye to your grease nightmare.
If you're a business based in St. Charles, contact us for comprehensive cleaning services for your kitchen.
Exploring the Charming City of St. Charles, Missouri, and the Importance of Kitchen Cleaning for Food Safety
St. Charles is the largest historic district in Missouri. It is also known as the oldest city boasting unique, elegant shops and the enchanting Main Street in the Historic District. In this city, you will also find a variety of assisted living options for seniors, a vibrant club and bar scene that offers live music and more for party-goers, well-known chain hotels for travelers, and restaurants that offer casual and fine dining experiences.
If you want to visit points of interest throughout St. Charles, use of the Streetcar can take you to the St. Charles Convention Center, Ameristar Casino, Frenchtown, and more.
As you stroll along St. Charles, MO, you will be captivated by its wonderfully preserved architecture and the culture of the locals. Residents have high regard when it comes to cleanliness and safety. So, at Grease Bullies Hood Cleaning, we take our services seriously. We are here to continuously help businesses comply with standards.
Effective and Efficient St. Charles Kitchen Hood Cleaning Services for a Healthy Establishment

Restaurant Hood Cleaning:

Preventing fire hazards means regular cleaning of the exhaust hood filter and ductwork maintenance. Our process of cleaning restaurant hoods involves high-pressure spraying and degreasing.
Rooftop Grease Containment:

Containing grease is important to avoid damage to the roof and the spread of bacteria that may cause contamination. Grease Bullies Hood Cleaning can maintain your grease systems effectively to prevent potential damages and environmental pollution through our rooftop grease containment services. We will remove and dispose of accumulated grease using grease siphons and vacuum pumps.
Kitchen Appliance Cleaning:

As a professional hood cleaning company, we have the best equipment needed to clean your appliances of grime, dirt, and residues.
Restaurant Cleaning:

The interior and exterior of the restaurant influence the impression of your establishment as a whole. Our professional restaurant cleaning will guarantee quality services that will contribute to your customers' delightful dining experience.
Fryer Cleaning:

Even fried food can get contaminated during the cooking process due to bacteria lingering on the fryer's surface. Deep cleaning of fryers involves meticulous processes like scraping and degreasing, and we will ensure your commercial fryer is left without food debris or residues that may cause cross-contamination.
Hood Filter Cleaning:

Hood filters and exhaust require professional, specialized cleaning. We can get rid of grease and dirt from the hood filter without damaging the screen, paying extra attention to the grease buildup and removing it with the right cleaning tools and products.
Grill Cleaning:

Food safety is one of the crucial reasons to hire a professional to clean your commercial grills. Uncleaned commercial grills can leave an unpleasant flavor, and dirt and debris can affect the performance of the equipment.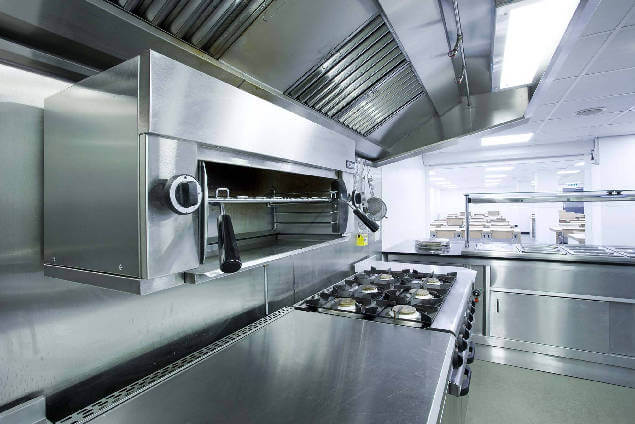 Highly Skilled Hood Cleaning Experts in St. Charles, MO 
At Grease Bullies Hood Cleaning, we understand the risks and challenges involved in cleaning commercial kitchens and equipment. We know that developing a kitchen cleaning plan is important, which is why our expert kitchen hood cleaning technicians offer the best services in St. Charles, MO.
We have a team of skilled local hood cleaners dedicated to providing exceptional,  tailored services for your business. Discuss your cleaning requirements with us today!
Here are some frequently asked questions about kitchen hood cleaning we receive to help you make a decision:
Get the Benefits of Our Premium Hood Cleaning Services in Belleville, IL

The duration to complete the process varies depending on the service you will get. Kitchen hood cleaning and commercial equipment cleaning may take 1 to 3 hours or more. We have to consider the complexities of the job such as the condition of the restaurant hood and equipment.
Are there any specific Missouri regulations for restaurant or commercial kitchen cleaning?
Just like any other state, Missouri has health and safety standards that all local businesses must follow. We comply with these guidelines to minimize fire hazards, especially during cooking hours.
Will the cleaning process disrupt my kitchen operations?
Grease Bullies Hood Cleaning strives to provide cleaning schedules that accommodate the busy operations of our clients. Cleaning takes time and effort and can become very busy, so we always recommend scheduling the services for when the restaurant or kitchen is closed.
Experience Remarkable Restaurant and Kitchen Cleaning Results With Us
Commercial kitchen and hood cleaning services play a vital role in the St. Charles community. We are here as a trusted partner in providing local businesses with the best approach to cleaning their kitchens and equipment. Call us to request a free kitchen hood cleaning cost estimate.