Restaurant Hood Cleaning:
Cleanliness is an essential factor that attracts customers to your restaurant. Even when your dining area looks picture-perfect, your restaurant won't look neat without kitchen exhaust hood cleaning.
Though, it most likely won't directly affect business as customers are not entering the kitchen of your restaurant. Officials have the authority to check your kitchen and give you a notice if it is not up to mark.
The fire marshal of St. Louis and the health department will regularly inspect your kitchen and rank your restaurant accordingly. They can even shut down the restaurant if they find the condition of your kitchen unsatisfactory. One of the main reasons to get a notice for not maintaining your kitchen is the grease stuck on the hood.
Small portions of all dishes cooked and ingredients used to find ways up to your hood. Even if you wipe out the dirt, most of it will be there on the duct and fan of the hood. It will make your hood greasy and grimy, increasing the chances of a fire outbreak.
In such a situation, the fire marshal will ask you to hire a professional kitchen restaurant hood cleaning company to avoid fire.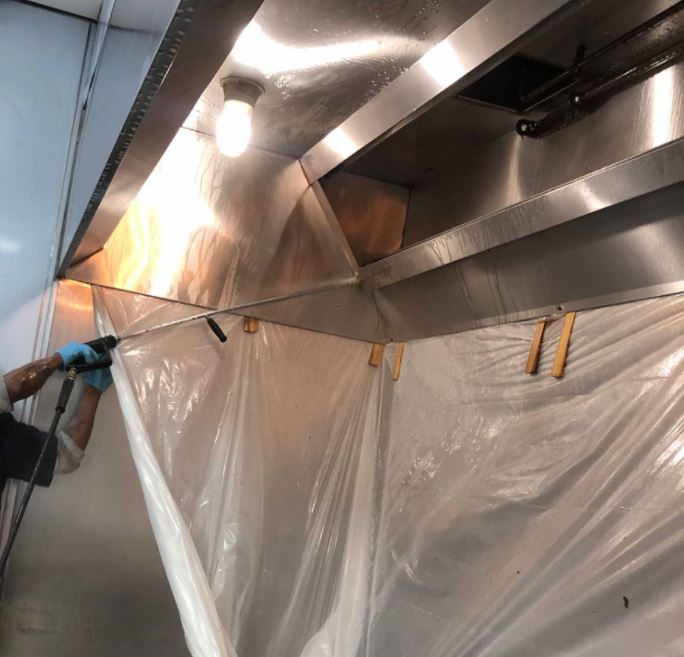 Get Restaurant Hood Cleaning Regularly!
Apart from safety; regular hood cleaning service also saves your kitchen from the foul smell of grease build-up. Grease build-up is a breeding ground for bacteria and fungus, making a clean the kitchen hood necessary.
The question confusing many restaurant owners is when to clean the hood. We have seen many restaurant owners wait to call us until the kitchen starts smelling bad.
The only solution to this confusion is to keep a fixed timetable! The timetable should be per your usage and the grease build-up amount. If the cuisine demands a lot of frying and roasting, you should clean your hood more frequently. The standard suggestion is ninety days; however, you shouldn't stick to that 90–day plan if there is visible grease build-up.
According to the National Fire Protection Associations guidelines, the hood must be cleaned every month if using solid fuel in the kitchen. For seasonal restaurants, cleaning your hood once every year may be enough.
Don't worry if you can't figure out the right time to clean your kitchen hood -we've got you covered. Green Bullies expert team will examine the condition of your hood and suggest the right time to clean your hood.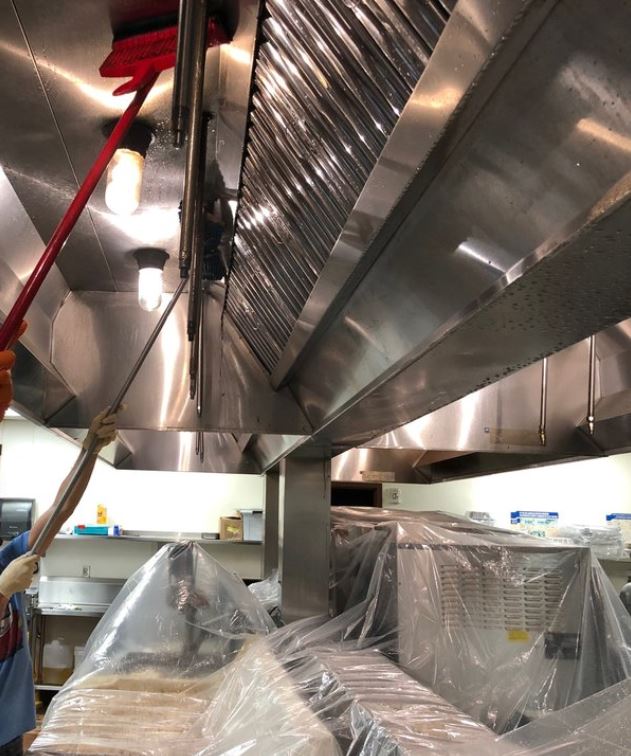 What should you expect from a hood cleaning by Grease Bullies?
If you are calling us for your hood cleaning service, expect nothing but the best!
We conduct a complete inspection of your kitchen and hood system to decide the cleaning method that best meets your needs. Taking photographs of all the hood parts will inform you of any damages inside the hood.
We then pick the best FDA-approved degreaser that will loosen stubborn grease. Then we fix a date at your convenience, assign our professionally trained cleaners, and clean your hood.
We end the cleaning with a thorough polishing of the exhaust and paste a sticker on the hood with the cleaning date. Your kitchen hood will be tidy in one session, and you will receive information on when the next cleaning is due.
Why Grease Bullies?

Years of experience in restaurant hood cleaning has made us the most reputed kitchen cleaning service agency in St Louis. Our service covers all the nooks and corners of your hood and keeps it clean for an extended time.
So, if you can spot a grease mark anywhere on your hood, give us a call now!