Grease Bullies Hood Cleaning
No more Greasy hoods in the kitchens of St Louis, MO!
Are you tired of your kitchen hoods getting greasy and grimy right after a cleaning session? If yes, then you need a top-class professional cleaning. Our experts ensure that your hood remains tidy for a longer period.
Professional Hood Cleaning by Grease Bullies
Kitchens of any size with hoods need professional hood cleaning services for several reasons. The hood of a large kitchen, whether commercial or not, will have a great accumulation of grease inside the ducts; the same goes for the fans, turbines, and the rest of the parts of the hood. Hiring us will put an end to these situations and keep your hood clean.
Cleaning your kitchen hood on your own is not a good plan as only the exterior portion of your hood gets clean. Sometimes doing this can push grime inside the duct and worsen the condition. Soon after a cleaning like this, you will feel the need to clean it once again.
What you need is an experienced team with advanced tools and expertise to provide you with a comprehensive cleaning service.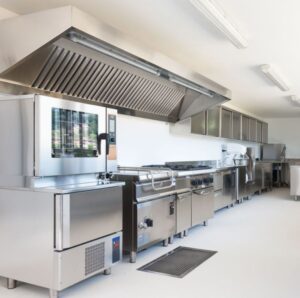 This is where Grease Bullies comes to the action.
Our years of experience in professional hood cleaning in commercial kitchens have made us one of the most trusted hood cleaners of St Louis, MO. We clean your hood with precision to ensure that no part of your hood remains grimy or oily. Give us a chance to build a safe and hygienic workspace for your kitchen staff and customers.
Experienced Team for Certified Services
We have been providing top-class commercial hood cleaning services in the kitchens of St Louis for years. 
Our trained professionals know how to handle stubborn grease stuck on the farthest corners of your hood duct. The team starts the work after understanding the condition of your hood and creating a strategic cleaning plan. This way, we can clean your hood without leaving any spot untouched.
When we say "we offer professional hood cleaning in St Louis," we really mean it!
Our well-rounded cleaning methods make your kitchen hood hygienic and safe for a longer period of time. Our team follows instructions from the Bureau of Fire Prevention to prevent any fire accidents from occuring in the kitchen.
A fire outbreak in a kitchen can be a threat to everyone in the building. It can also cause a huge economic loss to you as the owner. Even if you have insured your business, you won't get the claim for damages due to greased hoods. The insurance company will consider it an accident due to your negligence and reject your claim.
Be assured that by selecting us for hood cleaning services we will help save your kitchen from hazardous scenarios.
The National Fire Protection Association Code gives a clear picture of cleaning your hood and how often you should be doing it. When you trust your hood with us, we make sure we meet all the parameters set by the fire department.
Why should you clean your hood?
Restaurant owners and other commercial kitchens hire our hood cleaning service for various reasons. Here are the top reasons:
Clearing fire code inspection: To run a restaurant or any commercial kitchen in St Louis, you need to clear the Bureau of Fire Prevention's fire code inspection. Grease is a highly flammable substance that can initiate uncontrollable fire, you won't get a clean check mark from the Bureau if you have a dirty hood.
Fire Prevention: Not clearing the Bureau of fire prevention inspection means that your building is prone to fire. If your kitchen has not cleared the inspection, it is dangerous for your staff to be working in there. So, responsible restaurant owners ensure that their kitchen hood is clean inside out.
Insurance reasons: While insuring your business, every insurance company will ask for proof of regular cleanings of the hood. It is considered proof that your kitchen space is safe from sudden fire outbreaks. So, it is important to have your hood cleaned by a professional to be in compliance with warranties.
Germ removal: Grease is not the only villain that waits for you inside the ducts of your kitchen hood. There is bacteria, mold, and other germs. These germs are powerful enough to cause health hazards to your staff and customers. Being in the food business, you know how germs can adversely affect your business.
Avoid pest infestation: Untidy hoods become a breeding ground for pests and insects like cockroaches and ants. Even rats can make a home inside the hood and come out to munch on the food residue. It is a big threat to the hygiene of the kitchen as well as the smooth running of your business. So, professional restaurant hood cleaning is a dire necessity and the first step toward proper pest control.
Insurance reasons: While insuring your business, every insurance company will ask for proof of regular cleanings of the hood. It is considered proof that your kitchen space is safe from sudden fire outbreaks. So, it is important to have your hood cleaned by a professional to be in compliance with warranties.
As a restaurant owner, it is your responsibility to ensure that your kitchen is a safe place for your staff and customers. Otherwise, you might not be able to remain in business for long.
Earlier, you may not have had reasons to call for professional restaurant kitchen hood cleaning; but now you do. So, don't think twice about consulting with us when it comes to cleaning hoods!
Grease Bullies for complete commercial kitchen hood cleaning services
Imagine a team coming in to clean your kitchen hood and leaving your kitchen in a mess. Wouldn't that be disappointing? Our experts will make sure to leave everything arranged in a neat and tidy way.
Grease Bullies employs enthusiastic cleaners who are fun and easy to work with. Our team will be cautious about the equipment in your kitchen. We respect your workspace and promise the complete neatness of the kitchen after our service.
Commercial kitchen hoods come in different models and sizes, and no one knows it better than our experts. We care for the advanced model of the hood set as well as the vintage models. As we use different methods for different models, the exhaust hood does not get damaged while cleaning.
We use specialized equipment and cleaning products according to each kitchen's requirements. Our professional restaurant hood cleaning begins with a thorough analysis on the kitchen hood vent. This is followed by an end-to-end grime removal so you don't have to worry anymore about grease leaking out of the kitchen hood.
What we promise is hygiene, safety, and satisfaction. We believe in providing quality services that bring a wholesome smile to your face.
We offer services that will keep your hood clean for a long while after our cleaning. Another reason to choose us is that our services extend even after cleaning sessions. From cleaning the grease containment on the rooftop top to kitchen appliances cleaning we keep your kitchen sparkly. It is one of the reasons why we remain one of  the best restaurant hood cleaning services in St Louis.
When do you need restaurant hood cleaning? 
Every restaurant owner cleans their hood when they find it dirty or call in for professional cleaning. However, there are many who do not know the importance of hiring hood cleaning experts. If you are confused about when to call in the experts, check out these guidelines issued by the National Fire Protection Association:
Once a month:

Kitchens using charcoals, coals, wood, or wood pellets as fuels must professionally clean their hood once a month.
Once in three months:

Commercial kitchens that are functional twenty-four hours a day and do charbroiling or wok cooking must clean the hood every three months.
Every six months:

Kitchens (non-commercial mainly) which only function on special occasions, can hire our professional cleaning service twice a year. Churches, seasonal restaurants, and senior centers fall under this category.
Even when you know these guidelines, it is to your discretion when to clean the hood. Assign a day for us to clean your hood according to your usage and schedule. 
Reach out to us and we will help you chart your restaurant hood cleaning sessions.
Grease Bullies will never leave you disappointed!
We know the value of your money, we thoroughly examine every nook and corner of the hood before and after the cleaning. This way, you get a full ten out of ten for hygienic hoods, and we suggest when to schedule the next cleaning.
So, call us now and kick out the microbes and germs from your kitchen!