Kitchen Hood Cleaning Services in Alton, IL
Grease and smoke can damage the kitchen vent systems. They can obstruct airflow, increase energy consumption, and create numerous potential fire hazards. Regular maintenance by a professional Alton, IL kitchen cleaning company is essential to effectively eliminate the build-up.
Thorough cleaning of the kitchen and exhaust system requires specialized cleaning tools as well as the skills to ensure hard-to-reach areas are checked and cleaned. Grease Bullies Hood Cleaning can help you have an immaculate kitchen.
Set up a consultation with our Alton expert hood cleaning technicians today.
Grease Bullies Hood Cleaning Helps Preserve Alton's Beauty and Heritage
The city of Alton is bustling with cultural heritage and natural beauty of picturesque landscapes. Breathtaking views, scenic byways like the Great River Road, and the numerous festivals celebrated by the community are just some of the favorites for visitors. 
Alton, IL hosts various festivals and fairs that showcase music, art, and delicious cuisines. The locals take pride not only in the traditions, history, and well-preserved architecture but also in their high regard for cleanliness and safety. Grease Bullies Hood Cleaning helps local businesses adhere to regulations by offering unparalleled restaurant and kitchen cleaning services that help preserve the beauty of Alton. 
We support local businesses like assisted living facilities, hotels, restaurants and bars in their mission to provide quality customer experience. 
Guarantee a Cleanliness and Safety with Expert Hood Cleaning Services in Alton, IL

Restaurant Hood Cleaning:

Safety and cleanliness are of utmost importance when it comes to running a restaurant. Our hood cleaning experts will handle all things related to hood and exhaust cleaning to ensure no grease or dirt build-up is left behind to cause accidents, health problems, and other risks.
Rooftop Grease Containment:

Overlooking the need to maintain the rooftop grease system can result in big headaches. Our rooftop grease containment aims to help business owners and managers have peace of mind, by containing grease and disposing it to the proper facility. 
Kitchen Appliance Cleaning:

Unsanitary conditions happen when the commercial appliances are neglected, so thorough cleaning of the appliances is essential. With Grease Bullies Hood Cleaning, you can say goodbye to the possible spread of bacteria and contamination—we clean commercial appliances from the inside and out.
Restaurant Cleaning:

Professional restaurant cleaning will help you comply with the local regulations without hassles or worries, ensuring that you will surpass sanitation standards and pass health inspections.
Fryer Cleaning:

The quality of your food can be compromised by food debris left on the commercial fryer. Grease Bullies Hood Cleaning can help maintain the integrity of the food through food-safe and quality cleaning.
Hood Filter Cleaning:

The hood filter plays a vital role in maintaining proper ventilation within your kitchen area. When dirt, grease, and other residues accumulate in the filters and exhaust systems, it can lead to poor air quality. Ensure breathable air in your kitchen by entrusting the cleaning of your hood filters to our hood cleaning experts.
Grill Cleaning:

The taste and quality of your food are directly impacted by the presence of spoiled food debris and hardened grease on your commercial grill. Ensure the optimal functionality of your commercial grill by having it cleaned by professionals.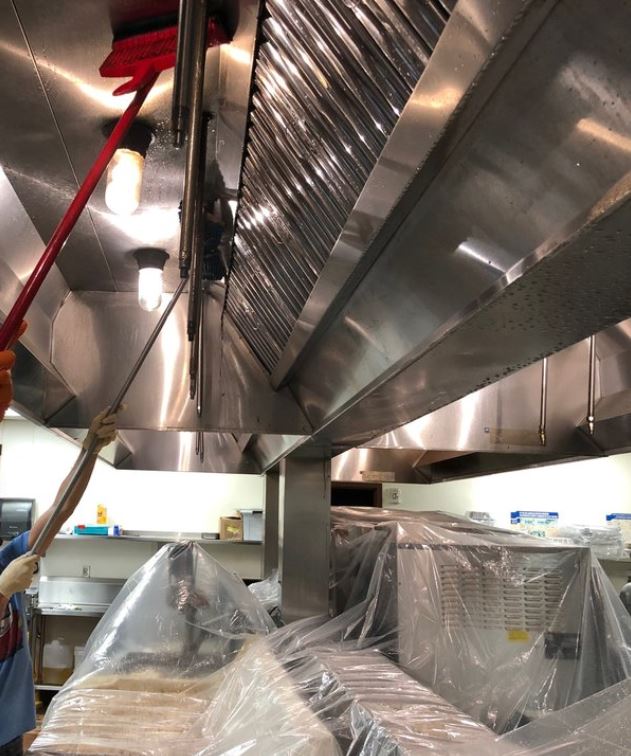 Leading Hood Cleaning Company in Alton, IL You Can Depend On for Efficient and Effective Cleaning Services
Keeping a commercial kitchen clean is not a joke. Hard-to-reach areas are often neglected. However, because of the strict local regulations, especially relating to cleanliness and safety, it is essential to keep establishments in top shape. With our kitchen and restaurant hood cleaning, you will not have to worry about increased energy consumption, fire hazards, or blocked airflow.
Grease Bullies Hood Cleaning is not your average wipe-down kitchen cleaning company. Our technicians consist of hood cleaning experts who are committed to getting rid of the pesky grease build-up and food accumulation in the kitchen equipment. We are all about helping local businesses reduce the risk of health concerns, accidents, or fires. 
Alton, IL businesses that have commercial kitchens such as restaurants, hotels, assisted living facilities and bars are required to have proper ventilation. That is why we ensure our service and process will result in getting rid of hazards and dirt.  You can trust Grease Bullies Hood Cleaning to eliminate safety hazards and any other unsanitary issues.
The Advantages of Choosing Our Professional Hood Cleaning Services
A clean establishment equals happy and safe staff and customers. Grease Bullies Hood Cleaning is ready to give your commercial kitchen area a cleaning makeover. We ensure your kitchen will have a better atmosphere and good airflow.
Contact us to inquire about our Alton, IL kitchen and hood cleaning services. Ask to receive a free cleaning estimate today!