Professional Hood Cleaning in East St. Louis
Attention all East St. Louis restaurant owners and food service businesses! Tired of dealing with a greasy kitchen hood? Grease Bullies Hood Cleaning is a team of professional technicians and local hood cleaners trained to deep clean restaurants and kitchen hoods. Our advanced expertise in hood design and functionality sets us apart from the competition. 
We guarantee unparalleled results and a grease-free exhaust hood in no time!
Grease Bullies Hood Cleaning strives to provide top-notch services while maintaining the highest workmanship and customer satisfaction. As a fully licensed, bonded, and insured hood cleaning company, you can trust us to get the job done right. So why wait? Do not miss out on this opportunity to get a grease-free kitchen and exhaust hood. 
Contact us for a free East St. Louis hood cleaning quote and be on top of everything today!
Regular and Thorough East St. Louis Restaurant Cleaning Is Your Key To Success
East St. Louis's lively downtown area makes it an ideal location for some of the finest restaurants in the industry. With hundreds of restaurants offering a variety of cuisine, East St. Louis is a top destination for foodies.
However, East St. Louis restaurants also face challenges like keeping up with health and safety standards. While local regulations are crucial, they can be difficult to implement. Restaurant managers and staff work in a busy, fast-paced environment and find it hard to comply with the cleaning guidelines.
If you are a restaurant owner or manager in East St. Louis struggling with cleaning, Grease Bullies Hood Cleaning is here to help!
Regular cleaning is the key to success for restaurants in East St. Louis. A well-maintained and spotless establishment can seriously boost your business' reputation. And a clean restaurant will attract more foodies and local residents to dine in!
Our team specializes in professional hood and restaurant cleaning, offering skills, years of experience, and expertise to maintain a clean and vibrant restaurant environment. Get in touch with us now!
What East St. Louis Cleaning Services Can You Expect From Grease Bullies Hood Cleaning?

The goal of our hood cleaning company is to help make your restaurant operate seamlessly so, you do not have to worry about anything else other than serving the best dishes to your customers. At Grease Bullies Hood Cleaning, we offer an array of services, which includes:
Restaurant Hood Cleaning: 
Running a restaurant is no small feat. This is where our professional restaurant hood cleaning comes in handy. Hood cleaning can be difficult to do and improper or lack of cleaning will increase fire hazards and the risk of contamination. By hiring Grease Bullies Hood Cleaning, you can be confident about getting spotless results.
Rooftop Grease Containment: 
Ensure your rooftop grease containment is in good condition today by using our maintenance services. The amount of grease and other residue stuck in the outblast fan and hood system can ignite a fire. We offer complete rooftop grease containment cleaning and maintenance. Our team will make sure the tank is thoroughly cleaned and left with no grease deposits.
Kitchen Appliance Cleaning:
Worry no more about cleaning and maintaining your commercial kitchen appliances. Our professional kitchen equipment cleaning services will make you kiss stress goodbye. Instead, say hello to squeaky-clean refrigerators, dishwashers, ovens, and more! Grease Bullies Hood Cleaning will make sure your appliances are functioning properly and in compliance with applicable regulations.
Restaurant Cleaning: 
A clean restaurant is important for building relationships with the community, and neglecting to clean your restaurant can lead to shutdown by health and fire departments. Our restaurant cleaning in East St. Louis will eliminate foul smells in your establishment and significantly increase its curb appeal. Our team guarantees every surface of your restaurant is sparkling and germ-free.
Fryer Cleaning: 
Grease Bullies Hood Cleaning uses safe methods for getting rid of grease and residue from commercial fryers. The safety of all is important to us, so we start by turning off and unplugging the fryer. After that, comprehensive cleaning and sanitation for all accessories happen. 
Hood Filter Cleaning: Cleaning hood filters is crucial to maintain a clean and safe kitchen. Our hood filter cleaning service is designed to ensure filters are left functioning optimally. Our service aims to reduce the risks of fire caused by clogged hood filters. Stay on top of your game and ensure your restaurant hood filters are grease-free and not posing risks!
Grill Cleaning: 
All commercial grills need a thorough grill cleaning service, so our experienced cleaners will tackle stubborn grease buildup and food residue using equipment cleaning methods that involve non-toxic solutions, are odorless, and cause no damage.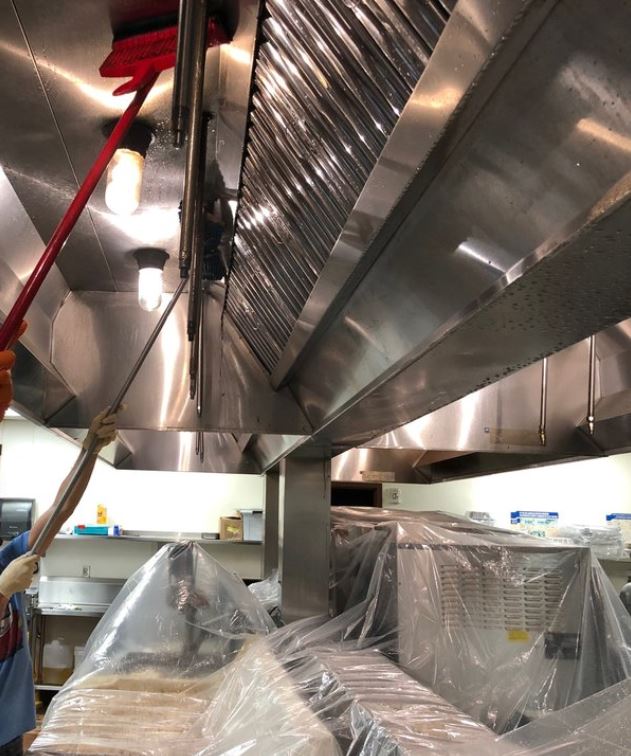 Maximize Your Potential In The Kitchen: Use Our Restaurant and Kitchen Hood Cleaning Services
Grease Bullies Hood Cleaning is your partner in ensuring a safe and clean establishment, working efficiently and delivering unmatched results. Your business deserves the best when it comes to restaurant and equipment cleaning. Trust us to be your partner!