Assisted Living Facilities
Commercial Kitchen Cleaning for Assisted Living Facilities in St. Louis, MO
Running an assisted living facility is hard work already, but maintaining a commercial kitchen, especially in places that cater and care for the elderly or disabled, is of paramount importance.
Grease Bullies Hood Cleaning provides a speciality cleaning service that removes germs and bacteria from all kitchen appliances, kitchen exhaust systems, vents, hood filters, and more. Our skilled technicians are here to assist you in keeping your facility's kitchen in tip-top shape.
St. Louis, MO Commercial Kitchen Cleaning Services
Are you tired of cleaning the grime, grease, and food spills from your kitchen floor, appliances, and equipment? Do you need some help in ensuring that your kitchen is in its best condition? If so, check out the cleaning services we do for kitchens in assisted living facilities below.
Assisted Living Facility Kitchen Cleaning
Our goal is to make all commercial kitchens in St. Louis, MO, and the surrounding Illinois area clean and safe for everyone. Our assisted living kitchen cleaning service can be a standard or deep cleaning.
We can do personalized service to suit your needs. Our standard cleaning wastes no time and gets the job done at an affordable price, and for kitchens that require a more thorough touch, our deep cleaning for commercial kitchens takes a little longer with more careful planning.
Commercial Kitchen Appliance Cleaning

We pride ourselves on delivering a professional kitchen appliance cleaning service. We offer weekly cleaning services as well as deep cleaning and spring cleaning for assisted living facilities in St. Louis, MO. Our expert hood cleaners and technicians are trained to meet your cleaning needs.
Fryer Cleaning
Our fryer cleaning method involves boiling out the deep fryer to get rid of all grease and oil from the equipment and its components, thoroughly cleaning out the fryer and eliminating germs and hard-to-remove food debris.
Grill Cleaning
For a premier BBQ cleaning service, consider our grill cleaning service. No more spending hours cleaning the commercial grill. We offer efficient grill cleaning to St. Louis, MO and the surrounding area that will remove years of dirt, grease, grime, and food spills from your BBQ grill.
Left untreated, food debris falling on the drip pan and heat shields can leave your BBQ grill dirty and leave you at risk of falling ill, as over time, the food and grease will grow mold and bacteria.
Before your assisted living community suffers from stomach and throat pain, have a professional kitchen cleaning company clean your commercial grill.
Hood Filter Cleaning
Grease Bullies Hood Cleaning is the perfect one-stop shop for hood filter cleaning and commercial kitchen exhaust cleaning. Our local hood cleaners work closely with assisted living managers and staff to make sure the kitchen range hood filter complies with the NFPA standards, and we also inspect and offer hood cleaning service options.
Safety is top of our priority. Working with Grease Bullies Hood Cleaning will ensure only the best results for your kitchen and your community.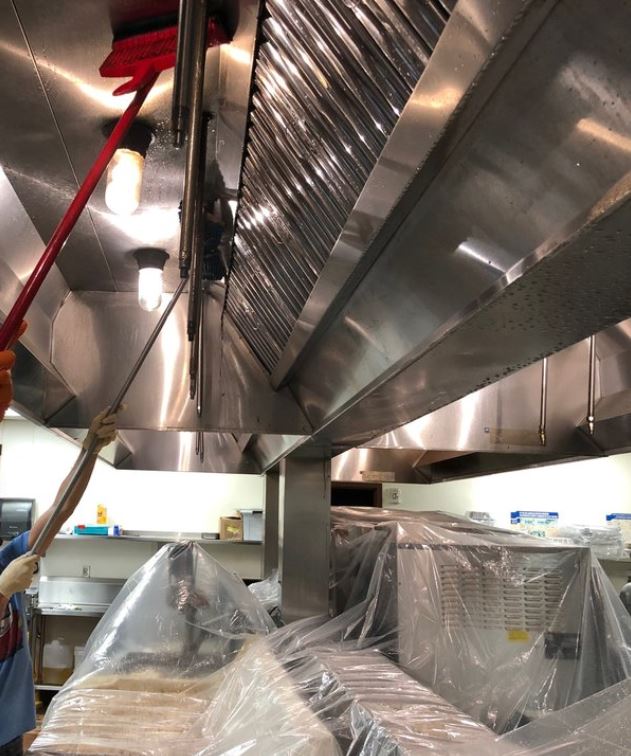 Why Grease Bullies Hood Cleaning
People in assisted living facilities should be enjoying their new life. They should be able to feel better, be creative, relax, and discover new opportunities, new hobbies, and new friends. To do that, you have to take care of the other details in their life such as ensuring that the kitchen you serve them food from has spotless hoods and appliances among others.
We at Grease Bullies Hood Cleaning have the kitchen cleaning solutions you need. We are a team of professional skilled cleaners based in St. Louis, MO that deals with all kinds of kitchen messes. With Grease Bullies Hood Cleaning's expert kitchen cleaning service, you can be confident that you will receive unparalleled quality cleaning services.
As a facility caring for your community, let us help you serve them with the clean and safe kitchen they deserve. Call us to discuss your needs.
Contact Grease Bullies Hood Cleaning
Call us if you wish to schedule a commercial kitchen for your assisted living facility, or to request an immediate kitchen cleaning estimate. We are here to serve you with a safe and effective kitchen cleaning that will transform your kitchen area.
As crucial as kitchen hood filter cleaning is, replacing the hood filter at the right time is also necessary. A hood filter in bad condition will be more harmful than not having a hood filter. 
However, we cannot set a schedule for changing hood filters without understanding the rate of grease accumulation on it. You must replace it when the old one stops performing normally. So, always be vigilant for the signs such as corrosion or dent in the filter. 
If you see any of these signs or face any difficulty while cleaning the filter, it is your cue to call a professional hood filter cleaning service.
A professional hood cleaning service will offer you a good quality filter that you can use for a long time. A steel filter saves you from the cost of replacing the filter every once in a while.