Kitchen Appliance Cleaning
Kitchen Appliance Cleaning Services
Will you be able to serve food on time if your kitchen appliances are not working correctly? No! But that won't be the case if you consider our commercial kitchen appliance cleaning services.
From deep fryers to refrigerators, there are appliances of different shapes and sizes in every commercial kitchen. These appliances are an essential part of any restaurant and kitchen.
Maintaining these appliances does not demand a lot of effort. However, many of them get damaged easily. As these appliances are expensive and valuable in the kitchen, keeping them in good condition is necessary. One way to ensure the durability of these expensive appliances is by cleaning them regularly.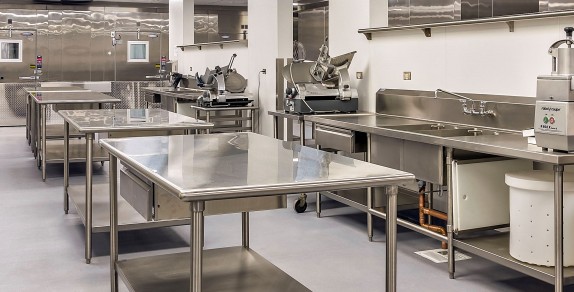 How to keep your kitchen appliances clean?
It is not always possible to keep the appliances of a busy kitchen clean. The burnt remnant of food might get stuck on the appliances once in a while. Liquid ingredients can spill over them and leave stains, and even molds might form on them during the time.
Nevertheless, leaving them uncleaned poses many threats to your appliances and the normal functioning of the kitchen. So, make sure you wipe down all the dirt and residue before closing the kitchen. It will help in keeping your appliances operational for a considerably longer time.
The oil stains, fat, and grease stuck on the appliances will be hard to remove and can even erode the surface. So, if your regular cleaning does not remove all the stains, you must consider hiring professionals for the job.
Our restaurant deep cleaning services remove all the dirt, grime, and stains from your appliances and keep them new.
How can a professional restaurant deep cleaning service help?
Almost all kitchens in St Louis have a devoted kitchen staff for cleaning the kitchen. Wiping and cleaning all the visible particles from the electronic appliances.
However, this is not enough for the well-maintenance of the electronic appliance. Food particles might fall on unreachable parts of the machines at times. Some stains may remain stuck even after the cleaning, damaging the appliances' surface.
The oil drops that fall on the appliances become greasy and grimy over time if you do not clean them properly. Even a small spark in these grease particles can start a kitchen fire and burn the whole place.
Untidy appliances also pose a threat to food quality. Fungus and mold will form on the surface of the food and ruin the quality of your food.
So, it is essential to hire a professional cleaner to wipe down stubborn grease and dirt stuck on your appliances. Hire Grease Bullies for kitchen appliance cleaning.
Grease Bullies will give a new life to your expensive appliances in a single cleaning session. We know how valuable these pieces of equipment are, so we ensure that we do not use any damaging products on them.
Our experienced team takes an analysis of the appliances present in a kitchen before starting the session. Then we take photographs of all the areas of the appliances. That way, no part will be left unnoticed and dirty.
Once we get an idea about the type of equipment and the appliances you use, we move on to choosing the proper treatment. We pick tools and FDA-approved cleaning solutions according to the sensitivity of the machines present in your kitchen.
Then our team sets the schedule according to your convenience and gives your appliances a thorough cleaning. We finish our deep commercial kitchen cleaning service by taking photographs to assess the difference.
Your appliance will look the same as they were when you bought and installed them. So, do not wait; call us now for commercial kitchen appliance cleaning.