Kitchen Hood Cleaning Services Chesterfield, MO
Inefficient management of commercial kitchen hood cleaning tasks can result in failing inspections, increasing fire risks and accidents, and more. Addressing the concerns with tailored kitchen hood cleaning services ensures your business is up to code and will pass inspections.
At Grease Bullies Hood Cleaning, we fight grease every day. We focus our operations on combating grease-related challenges that local food service businesses face on a daily basis. We clean and maintain kitchen exhaust hoods, hood filters, kitchen equipment and more!
Enjoying The Extraordinary City of Chesterfield, MO and Complying with Cleaning Regulations
Chesterfield, MO is a captivating city with a thriving residential community and business sector. With a history of locals helping the city, Chesterfield is also considered the "City of Volunteers". It is also one of the best places to live with a variety of public parks, businesses, shopping areas, and a population of more than 49,000.
The city of Chesterfield, MO offers many things. For a fun recreational center, the Topgolf St. Louis is worth exploring. It boasts a laid-back atmosphere and awesome facilities that locals and visitors will enjoy. The unique exhibit of butterflies in the Sophia M. Sachs Butterfly House is also one of the most visited places. Sophia Sachs and her husband are catalysts for the developments in Chesterfield. And for watching the best shows, nothing beats the Chesterfield Amphitheater, famous for hosting concerts, evening shows, and other events. 
One of the essential regulations in Chesterfield, MO concerns regular cleaning of commercial kitchens. Grease and residues will accumulate on the range hood and compromise the quality of air, causing fire hazards and other issues that will affect the community. Essential services such as restaurant and kitchen cleaning are vital in upholding the safety and cleanliness of local shops. Embracing the best practices when it comes to kitchen and equipment cleaning ensures the future of locals, visitors, and the extraordinary city of Chesterfield, MO.
Guaranteed Grease-Free Kitchen Hood Cleaning Services in Chesterfield, MO

Restaurant Hood Cleaning:

Our primary objective is to help local businesses comply with Chesterfield's safety regulations. Our hood cleaning technicians will thoroughly clean restaurant hoods, preventing fire hazards and accidents and leaving your kitchen spotless. 
Rooftop Grease Containment:

As a professional hood cleaning company in Chesterfield, MO, we are trained to contain, clean, and remove grease from the rooftop grease containment system. We provide expert maintenance services that will effectively remove grease from the roof, helping prevent potential damages, environmental pollution, and health issues. 
Kitchen Appliance Cleaning:

Cleaning commercial kitchen appliances requires skill and knowledge of the different appliance types and the proper cleaning methods. Grease Bullies Hood Cleaning has local hood cleaning experts who have a background in professional kitchen appliance cleaning. We will ensure complete sanitation of the appliance to prevent the spread of foodborne health issues. 
Restaurant Cleaning:

What better way to gain more customers than by keeping your restaurant pristine. Our restaurant cleaning service in Chesterfield, MO will guarantee quality cleaning services that will contribute to your customer's positive dining experience. We will sanitize all areas, including high-touch surfaces such as doors, chairs, and tables. 
Fryer Cleaning:

Deep cleaning a commercial fryer can be a little tricky. The components need to be disassembled for cleaning such as the baskets and heating elements. The interior of the fryer must be scrubbed to eliminate grease and grime. Each component must be thoroughly rinsed and dried before reassembling. Our fryer cleaning aims to help improve the quality of food you serve without hassle.
Hood Filter Cleaning:

The kitchen hood filter ensures a safe and hygienic kitchen space by removing airborne contaminants, smoke, and grease. Our hood filter cleaning involves preparation of the range hood, removal of the hood filters, and degreasing. 
Grill Cleaning:

There are many benefits to getting professional grill cleaning service. Expert cleaners will remove the grease, residues, and bacteria to maintain the performance of the commercial grill. Hiring our kitchen equipment cleaning service will save time and effort for your staff and extend the lifespan of your equipment.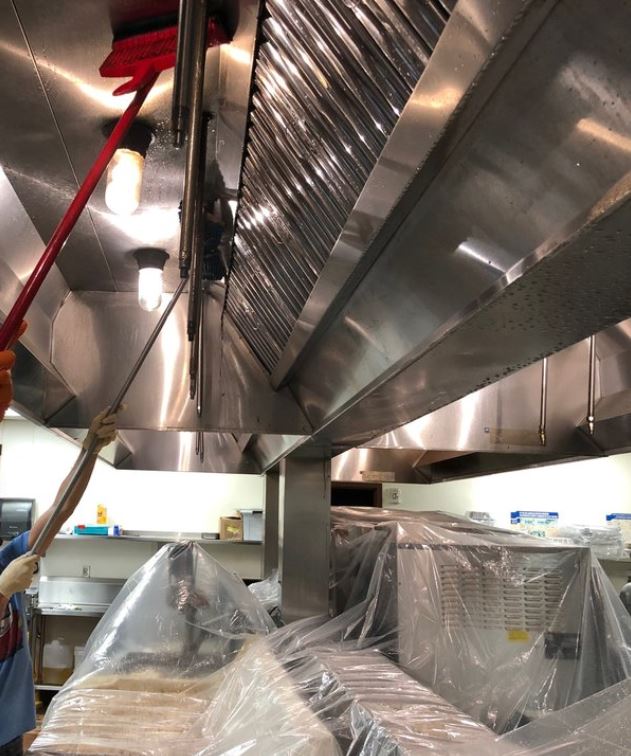 Eliminate Grease Build-up with Grease Bullies Hood Cleaning  Professionals
It is our passion at Grease Bullies Hood Cleaning to help businesses achieve a spotless kitchen environment. Our goal is to become part of a community that inspires culinary excellence, and as a leading Chesterfield kitchen hood cleaning company, we strive to ensure commercial kitchens are grease and grime-free. 
We safeguard local businesses and their reputation by providing unparalleled kitchen and equipment cleaning services. We understand that it is essential to comply with safety and health regulations, so we ensure to offer comprehensive services that prioritize quality results.
Take Advantage of Our Superior Chesterfield, MO Hood Cleaning Services
Do not let inefficient commercial kitchen cleaning be the reason for your business failing inspections. Address your concerns now with our kitchen and equipment cleaning services in Chesterfield, MO. Take the step towards a spotless kitchen! At Grease Bullies Hood Cleaning, our team of expert hood cleaning technicians is armed with the experience and skills needed to ensure a sanitary and safe kitchen.