Kitchen Hood Cleaning Services in Belleville, IL
Customers expressing dissatisfaction with the cleanliness of the establishment can lead to a decline in customer satisfaction or worse potential loss of your business. Grease Bullies Hood Cleaning is your guardian against dirt, hardened food debris, and grease. 
We implement a comprehensive kitchen cleaning protocol involving inspection, thorough cleaning, and sanitation, using high-quality cleaning products to address grease-related issues promptly. You can gain more customers and significantly improve your business reputation by prioritizing cleanliness.
A Different Experience of Kitchen Hood Cleaning in Belleville
Belleville, IL is home to some of the most stunning architecture like the Gothic Revival design of the Cathedral of St. Peter. There is also the Belleville Historical Society and Museum which adds to the city's rich heritage. The city also offers an extensive range of exhilarating destinations such as the beautiful downtown district, which boasts many unique shops and local restaurants for foodies and tourists alike.
The residents of Belleville understand the significance of keeping a lively, beautiful, and safe community. That is why our Belleville restaurant and kitchen cleaning services are in high demand for local businesses. We focus on helping local businesses like restaurants, assisted living facilities, hotels, and clubs comply with stringent cleanliness and safety regulations, helping create a sustainable and eco-friendly community. 
Discover superior kitchen and hood cleaning for an exceptional kitchen when you work with Grease Bullies Hood Cleaning.
Reliable Hood Cleaning Services in Belleville to Level Up Your Establishment

When looking for a hood cleaning near me, Grease Bullies Hood Cleaning is the best choice in town. Inquire about our services and hood cleaning cost.
Restaurant Hood Cleaning:

Grease Bullies Hood Cleaning clean hood vents and exhaust hoods of restaurants, reducing risk of fire, health issues, and accidents and helping ensure proper ventilation and the safety of the staff and customers. 
Rooftop Grease Containment:

Preventing grease leaks for the safety of people and the establishment's structure is vital. With our rooftop grease containment services, you can avoid encountering costly repairs and risks of contamination.  
Kitchen Appliance Cleaning:

Dirt, spoiled food, and grease accumulate on the corners and sides of kitchen appliances. Neglecting their cleanliness can result in unsanitary conditions and health concerns. Our kitchen appliance cleaning ensures that commercial appliances are safe, clean, and ready to use.
Restaurant Cleaning:

Creating a positive customer experience can be done by ensuring a safe and clean restaurant. With our cleaning services, the appeal and atmosphere of your restaurant will improve. With outstanding cleaning results, there is no need for you to worry about sanitation codes.
Fryer Cleaning:

It is extremely important to have professional fryer cleaning to avoid problems as uncleaned food debris on the commercial fryer can compromise the quality of food and even lead to contamination.
Hood Filter Cleaning:

Poor air quality happens when the hood filters and exhaust systems are blocked with dirt, grease, and other residues. To have breathable air, the hood filters must be cleaned by professionals. Hood and exhaust cleaning are essential for keeping a clean commercial kitchen.
Grill Cleaning:

Leaving the food debris on the grill is not only unsanitary, they can affect the performance of the equipment and therefore the quality of the food as well.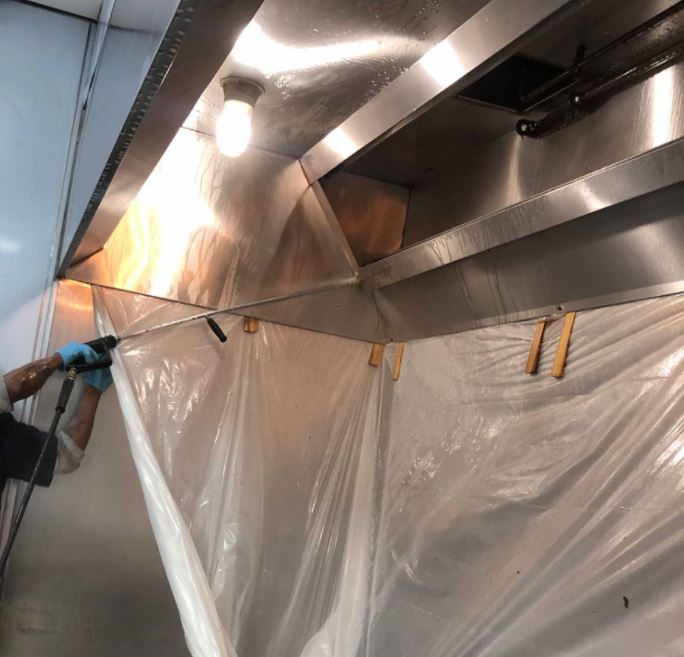 Your Go-To Source for Hood Cleaning in Belleville, IL
As a reputable kitchen hood cleaning company in Belleville, IL, we strive to embody professionalism in every aspect of our operations. Our team exercises high standards of services from first consultation to the end-of-service assessment. We carry out our kitchen cleaning services using high-end cleaning equipment and our technicians are meticulous when it comes to cleaning all corners of the room. 
Belleville business owners expect to be left with a healthy, fresh kitchen environment after working with us, and we aim to deliver on that expectation every time. To learn more about our service and to book a consultation, contact us.
Get the Benefits of Our Premium Hood Cleaning Services in Belleville, IL

Grease Bullies Hood Cleaning in Belleville is your guardian when it comes to kitchen cleaning and sanitation. As expert hood cleaning technicians, we are dedicated to ensure commercial kitchens, kitchen range hoods, and exhaust systems are spotless for the safety of all and the environment. There are many benefits to premium hood cleaning services:
Compliance with the local regulations and safety codes. We prioritize the welfare of your staff and customers by adhering to the mandated Belleville safety and sanitary regulations, helping you to take steps to minimize hazards and fire-related incidents and to keep the establishment safe.

Reduce slip and fall accidents by securing preventive measures. We can help decrease chances of accidents that could lead to legal liabilities, damages, or disputes.

Maintain clean and healthy indoor air quality and that will minimize the presence of airborne pollutants. Keeping a clean kitchen environment is vital to avoid health problems and respiratory issues. 

Avoid kitchen hood equipment downtime due to dirt and grease buildup on the exhaust system. Regular cleaning will prevent buildup of flammable grease deposits and equipment failure.
Take action now and experience the confidence that comes with a pristine kitchen.
Transform Your Establishment with Professional Belleville Hood Cleaning Services
Do not risk losing valuable customers because of uncleanliness. Grease Bullies Hood Cleaning is the partner you need to sanitize your restaurant or commercial kitchen today. With our exceptional kitchen hood cleaning services you will never worry about having dissatisfied customers concerned about the cleanliness again. 
Contact us to get a free restaurant or kitchen cleaning estimate.